Simple and delicious vegetable salad with broccoli, roast, gluten-free pasta, sun-dried tomatoes, pesto vegan... Little more can you ask this nutritious dish...
Well if that is also delicious, quick, easy, vegan... And with just 10 ingredients!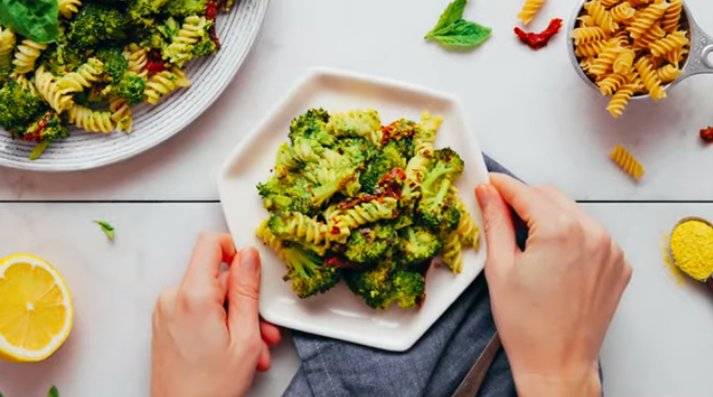 Ingredients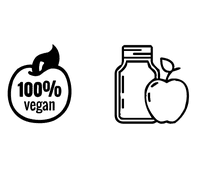 BROCCOLI
2 heads of broccoli chopped

15 – 30 ml of olive oil
1/4 teaspoon of sea salt and black pepper
PASTA
2 teaspoons salt (for water )

170 g of gluten-free pasta (dry) (we like the fusilli quinoa and brown rice)
PESTO
 85 g of basil

4 cloves of garlic, without skin
40 g of hemp seeds (or pine nuts)
30 ml lemon juice
10 g of nutritional yeast
1/4 teaspoon sea salt (or more to taste)
50 ml olive oil
TO SERVE
75 g of sun-dried tomatoes

50 g of cheese, macadamia nut ( optional )
1 pinch red pepper flakes ( optional )
Instructions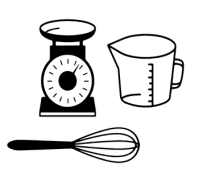 Preheat the oven to 200 degrees. Line a baking tray with baking paper. Add the broccoli and mix it with the oil, salt and pepper.

Once preheated the oven, add the broccoli and cook for 15 minutes or until lightly browned.
Meanwhile, boil a small pot of water and add salt (to season the water and the paste). Bring to a boil, add the pasta, stir and cook according to the package instructions, or until completely cooked. Drain and set aside.
At the same time, prepare the pesto. Add basil, garlic, hemp seeds, lemon juice, nutritional yeast, and sea salt to a food processor and blend.
Then, add the olive oil little by little until you get a paste and creamy. Scrape the sides if necessary.
Taste and adjust flavors if necessary, adding more salt to taste, nutritional yeast for the cheese, hemp seeds or basil, to thicken, garlic to taste or lemon juice for acidity. Cover with a lid and set aside.
Once the broccoli is golden, cooled slightly, and adds it to a large bowl to serve, and mix.
Then add the cooked pasta, drained, dried tomatoes, a teaspoon of cheese macadamia nuts (optional), and the red pepper flakes (optional).
Add the pesto on top and stir gently to combine (be careful not to break the pasta).
Enjoy immediately or refrigerate for 3-4 days (do not keep it in the freezer). Serve cold or at room temperature.

Can you help us to share?