It is assumed that the buns have their origin in the year 1500 in Scotland. After, Anna, duchess of Bedford, that the sipping at tea-time, popularized it in England.
They are still popular in the United Kingdom and can now be found in coffee shops and pastry shops from around the world. You are unlikely to find alternatives, gluten-free, but your own kitchen is a great place to start.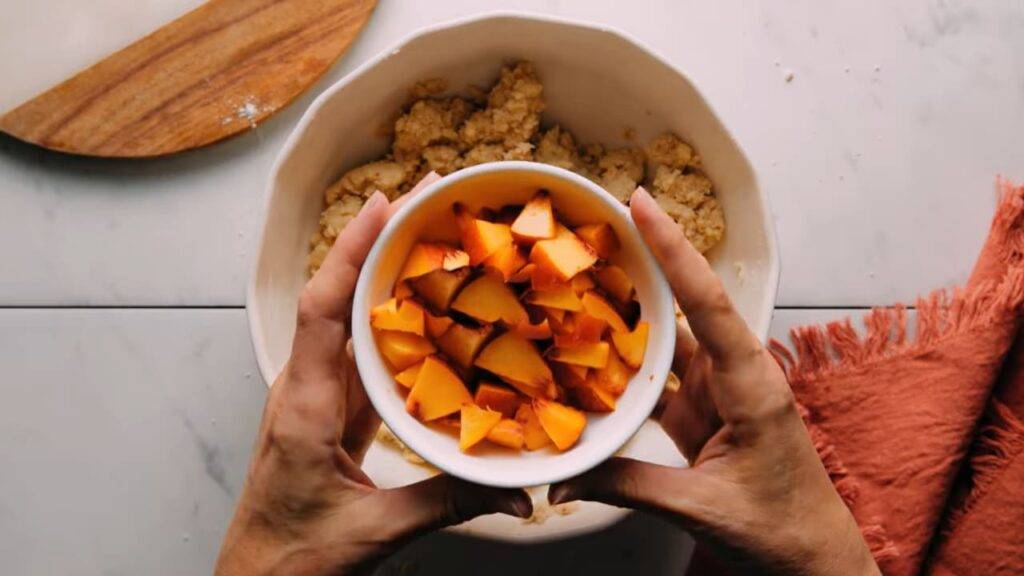 Scones peach: How to make them
Due to the precise combination of gluten-free flours, these scones peach are crispy on the outside and delicate on the inside (what we have achieved with our scones cranberry gluten free). However, if it is not gluten free, we think that the flour of general use it would be just as good (see this recipe for guidance).
Butter vegan gives them a touch hojaldrado and buttery (or coconut oil). Mix with the dry ingredients until there are only small particles, giving each bite a flaky texture.
The rest of the components are milk without dairy, and eggs from flax for the structure, a small amount of cane sugar for sweetness, and salt and vanilla to taste. 
Mass of buns with peaches, chopped
The peaches add just the right amount of flavor, sweet, sour and fruity to the buns, making them very unique. When they are in season and are uniformly tender and ripe, that are at their best.
The peaches too ripe can be undone and add liquid to buns, while the peaches a little mature to be less tasty and crunchy.
On a cutting board out of wood, shape the dough scones peach
After mixing all the ingredients, shape the dough into a disc and cut into triangles to get the iconic shape of the buns.
Professional advice: If the dough sticks to the knife, wipe off by water or clean it with a damp cloth between slice and slice. If you prefer to buns shaped cookie, you can use a round cookie cutter and wide.
On a cutting board, wood dusted, we extend the mass of buns peach
Finally, bake the buns until golden brown and sprinkle with a glaze of vanilla optional to move them to the wonderful land of desserts.
Scones peach with cooling rack, and gluten-free
We hope that these scones peach you enjoy them as much as we do!
They are ideal for breakfast, brunch, snack or dessert healthier. They are especially tasty when served with a cup of coffee or tea.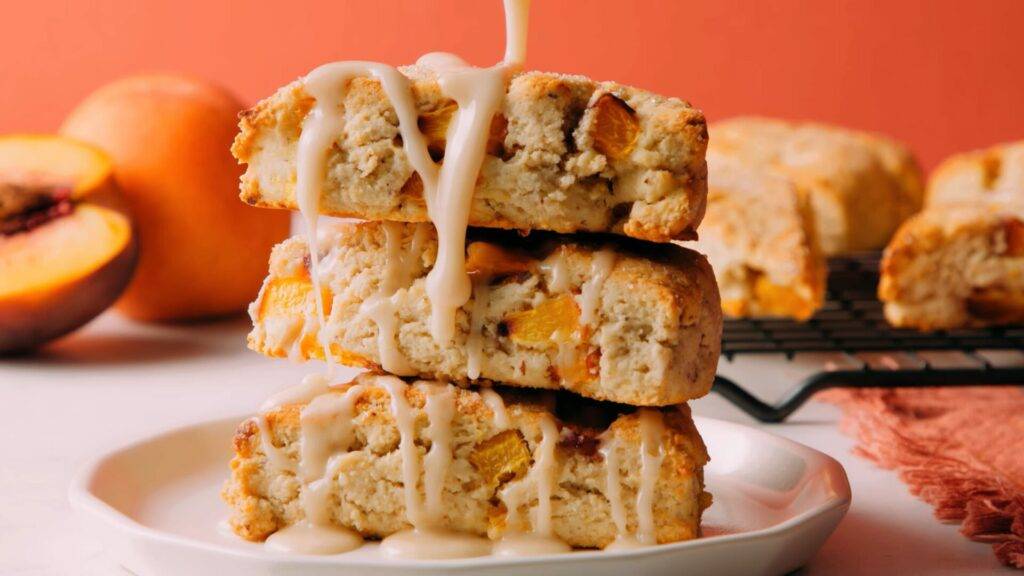 Ingredients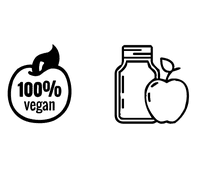 12 tablespoons flaxseed meal
60 mL of milk without sugar 22 mL of water (we use almond milk)
1 teaspoon vanilla extract (optional)
Almond flour, 140 g (if nut-free)
Potato starch, 120 g (not potato flour)
45 g of oatmeal
12 teaspoons of baking powder 2 12 teaspoons of baking powder
38 g of sugar cane eco-friendly (can be substituted for sugar for coconut but the result will be less crunchy and more color brown)
a quarter of a teaspoon of salt
42 g butter, vegan (or coconut oil, at room temperature – it should be suitable for use, not liquid or frozen)
125 g of peaches, chopped (the ideal is that they be fresh; defrost and drain the liquid if using frozen or canned)
Optional: GLAZE VANILLA
112 g sugar powder eco-friendly sifted 1/2 teaspoon vanilla essence
15-30 ml non-dairy milk
Instructions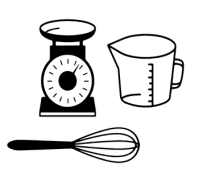 Preheat the oven to 200 degrees C and grease a baking sheet. Remove from the equation.
SCONES: To make the egg for flax, whisk together the flaxseed meal and water in a small bowl. Let it gelifique for a few minutes after removing. After, add the milk, without milk, and vanilla extract (optional).
Add the almond flour, potato starch, flour, oats, baking powder, sugar and salt in a larger container apart.
Cut the butter vegan cold cubes and mix with the rest of the dry ingredients. Cut the butter into the dry ingredients with a fork or a pastry cutter until only the remaining small pieces.
Add the milk, without milk, and the combination of linen to the dry ingredients and beat with a wooden spoon until everything is incorporated.
Then add carefully the peaches into slices until they are distributed evenly. The moisture from the peaches will help you to flirt even more mass. If you are used peaches more mature, the dough will be more moist, while if used peaches more hard and less mature, there will be more dry. The dough should be evenly moist, but not too sticky. If the dough is too shredded, add a tablespoon of milk without milk each time, until it stop to be. If it is too wet or sticky, add a tablespoon of almond flour each time.
Move the dough to a floured surface with oat or almond and give gentle tapping. Form a disc with a height of 3/4 inch to 1 inch. Cut the circle into 6 wedges (or 8 to buns smaller) and place them on the baking tray carefully, separating them evenly. Optional: for the crust more sweet, then sprinkle with a little more sugar cane organic.
Bake for 18-22 minutes, or until golden brown the edges. Leave to cool completely in the pan before serving.
GLAZE VANILLA: In a bowl, whisk together the powdered sugar ecological screening, the vanilla essence and milk without milk of your choice to make an icing that's pourable. If the sauce is too thick, dilute with more milk without dairy.
Add more powdered sugar if the mixture is too thin. Once the scones have cooled, drizzle the glaze over them. At 30 to 1 hour, the frosting will harden.
Serve with butter, vegan, and a cup of tea as is or with butter, vegan, and a cup of tea. It is best served the same day but can be heated in a toaster oven or in a normal oven at 180 degrees for about minutes the next day (or enjoy them at room temperature). Leftovers can be stored at room temperature up to 3 days or in the freezer up to 1 month once they have cooled completely.
Can you help us to share?